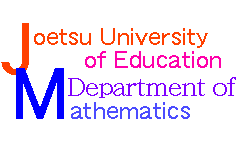 ・・・モデル化の指導に関わる文献リストはこちら

Farmer, L. S. J. (1999). Go figure!: Mathemaitcs through sports. Englewood, CO: Teacher Ideas Press.

Breiteig, T., Huntley, I., Kaiser-Messmer, G. (Eds.). (1993). Teaching and learning mathematics in context. London: Ellis Horwood.

Swetz, F. & Hartzler, J. S. (Eds.). (1991). Mathematical modelling in the secondary school curriculum: A resource guide of classroom exerciese. Reston, VA: National Council of Teachers of Mathematics

Blum, W, Niss, M., & Huntley, I. (1989). Modelling, applications and applied problem solving: Teaching mathematics in a real context. Chichester: Ellis Horwood.

---
分野別書籍リスト・インデックスへ
数学教育学リソースのページに戻る