NRO M33 All Disk Survey of Giant Molecular Clouds (NRO MAGiC)
about
M33 is one of the nearest spiral galaxies in the local group (D = 840 kpc; Freedman et al. 1991). The proximity of M33 allows us to resolve the individual GMCs with the existing large-aperture single dishes. Since M33 has a relatively small inclination angle of 51° (Deul & van der Hulst 1987), we can obtain a comprehensive view of a galaxy. This is a key advantage for the study of the correlation between GMC properties and galactic structures such as spiral arms.
We conduct the NRO M33 All Disk Survey of Giant Molecular Clouds (NRO MAGiC) project using the NRO 45-m and ASTE 10-m telescopes.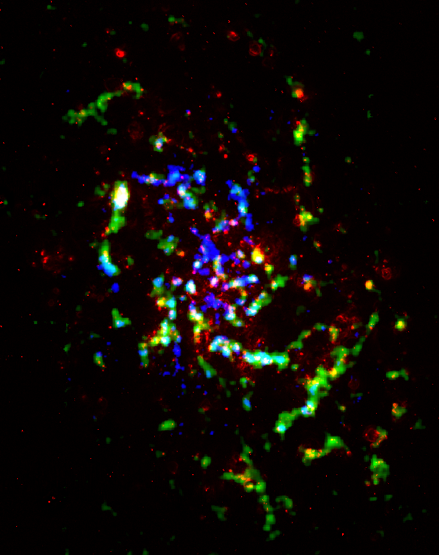 high resolution(jpeg)
 M33 of CO(1-0) (blue), 1.1mm continuum (green) and HII regions (red).